Sun City, Arizona Tree Nursery
Trees come in all shapes, sizes, colors and temperaments. Rely on the expertise of Whitfill Nursery, Sun City, Arizona's original grower-direct nursery, to make the best tree selections for your landscape.
Chosen for more than their visual appeal, trees are often selected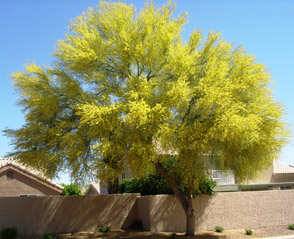 based on purpose. Whether you need to create breaks in the gusty winds that whip through your property, hide more vulnerable plants from  the burning hot sun, or prevent the activities in your backyard from becoming entertainment for your curious neighbors, trees offer a natural, long-lasting solution. Trees also create structure for homes, cover our floors, provide us with furniture and provide kindling for our fireplaces and fire pits. We even enjoy the food trees provide through the production of fruits, nuts and syrups.
Every tree type has its purpose and no one understands trees in the Sun City, Arizona desert better than Whitfill Nursery.
Selecting a tree for your property can be very complex. The location of the tree and the method and frequency of watering must be considered as well as it's exposure to direct sunlight. As a grower-direct nursery for over 60 years in the Valley, Whitfill Nursery can recommend a variety of trees from our family tree farm that can thrive in the desert heat. Choose among the following tree types: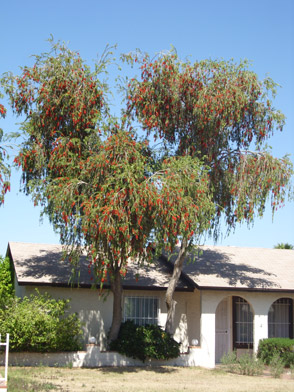 Desert Trees
– when you plant desert trees, you don't have to worry about them surviving the desert's harsh sun and persistent drought conditions. Whether you select a Palo Verde, Sisso, Acacia, Rosewood, Ash, Ficus, or a Mesquite among many others, Whitfill Nursery will offer the guidance necessary to make your desert trees flourish in the sizzling Sun City, Arizona climate.
Citrus Trees
– enjoy the fresh-squeezed goodness of citrus picked from your own Sun City, Arizona citrus trees. Among the most popular fruit trees in warmer climates, citrus trees add an abundance of luscious green color to your landscape and provide juicy, delicious fruit for your recipes. Decide among Whitfill Nursery's selection of Lemon, Valencia Orange, Tangelo, Lime, and Grapefruit trees.
Shade Trees
– when you plant a shade tree between you and the Arizona sun, you can begin to enjoy the outdoors before the sun goes down. Shade trees will have you spending more time outside due to the large canopy offered by trees such as Oak, Chinese Elm, or a variety of Maple trees.
Flowering Trees
– raising the complexity of common trees, flowering trees achieve another dimension with blooms in every color of the rainbow and then some. Enjoy the lush and colorful blooms provided by flowering trees like Jacaranda, Oleander, Myrtle, Palo Verde, and Hong Kong Orchid trees.
Palm Trees
– palm trees deliver a taste of tropical paradise to your outdoor property. Available in a number of varieties including Mediterranean Fan, Mexican Fan, Date, Pygmy Date, and Queen Palm among others, palms add an element of escapism to your environment.
Trees can offer a great impact due to their large presence in any landscape. However, trees alone fail to give your garden the variety necessary to be visually appealing in Sun City, Arizona.
A professional landscape has trees, shrubs and plants that provide contrast and appeals to your senses. Any combination of the following plant types accomplishes this goal.
Tropical Plants
– instill an environment of tranquility and elegance to your backyard with the plant elements that most represent paradise to you. Whether it's vivid colors or exotic shapes or a combination of the two, tropical plants can stir dreams of your ideal island vacation spot. For an authentic island retreat, select among a variety of Whitfill Nursery's tropical plant specimens including Lilies, Succulents, Banana trees, and Aloha Lilies among others.
Shrubs
– no plant fills the empty spaces between your trees and your ground cover like the woody branches, rich green foliage and colorful blooms of garden shrubs. Whitfill Nursery can dress up your grounds with a variety of shrubs that are commonly found in the desert climate including Hibiscus, Dwarf Oleander, Bougainvillea, Sage, and Lantana.
Uncover all the possibilities available for your outdoor environment with a visit to one of Whitfill Nursery's three Valley locations. Build the outdoor environment of your dreams and we'll help you create and maintain it in Sun City, Arizona.
Remember Whitfill Nursery is "where we still do the digging". Learn more from our About Us page or use the contact form below for any questions you may have.